2 NERDS, 1 DECADE
THIS IMAGE-DRIVEN SERIES SHINES AN OBNOXIOUS PASTEL NEON LIGHT ON THE 80-IEST 80S MOVIES AROUND. 
THAT'S SO 80s! takes a nostalgic trip down VHS memory lane, remembering some of the cheesiest movies from one of the cheesiest decades. Fellow movie connoisseur MOVIEROB joins forces with SLIP/THROUGH for a semi-regular column highlighting some of the best scenes (and fashion choices) of the era.
This edition of That's So 80s gets low brow with REVENGE OF THE NERDS (1984), a raunchy comedy about computer geeks and social outcasts who try to beat the jocks and rule their college campus.
It's easy to root for the underdogs in this familiar story. This was years before being a nerd was cool. This was back when nerds were awkward and ridiculed.
This isn't a drama about being bullied though, this is a hilarious R-rated cult classic ripe for you and your buddies to yell at the screen.
There's also tons of 80s fashion, music, and uncomfortable stereotypes.
This article is loaded with images, including quick retrospectives, and special 80s-themed ratings.
---
MOVIEROB says…
Most males who grew up in the 80s have seen REVENGE OF THE NERDS because it, like PORKY'S (Editor's Note: Go Canada!) before it, is known for being among the greatest 80s sex comedies.
The iconic line "We've got bush" is universally known. It's impossible to discuss this movie without that line, no matter how uncouth it may be to use it.
It's quite interesting rewatching this film now because it is so filled with clichés and stereotypes. However, it still resonates among fans despite all that.
I love the fact that years before anyone really knew what a home computer was, this movie helped accentuate the Nerd lifestyle.
Despite not necessarily being socially accepted, these "nerds" knew how to use their minds to get back at the frat boys.
This is one of the ultimate underdog movies. NERDS proves the point that even college movies filled with stereotypes can give us meaning to the idea that the outcast can find a way to get accepted.
The totally obnoxious laugh (think Eddie Murphy in the 80s) created by the main characters became the iconic nerd laugh and would be reused so many other times in movies and television.

It's great to see a young Anthony Edwards (90s TV, E.R. – plus, 80s cheese-fest TOP GUN) in this, as well as the least famous Carradine brother (ie: Not Bill from KILL BILL), and the LOVE BOAT photographer as a college jock.
NERD ALERT: None of the sequels are really worth watching. Abandon all hope ye who enter there.
---
SLIP/THROUGH – DAN says…
This is one of those 80s movies that I just loved growing up… and for more than that iconic line Rob quotes above. There are so many laughs to be had. REVENGE OF THE NERDS is R-Rated 80s raunchy comedy at its best. Also, as Rob mentioned, we get the familiar underdog story which is super easy to get behind. These Nerds will become your friends.
The versus element that drives the plot reflects society, so there is a theme… arguably. We have Jocks versus Nerds. Both want the love of the gorgeous women on campus. In typical 80s fashion, the cheerleaders are the object of affection.
These opposing factions face off in a tournament featuring crazy college games like Best Burp, Javeline Throwing (just to crack jokes at gays – offensive stereotype 101), Talent Show, and Drunken Mini-Bicycle Race.
REVENGE OF THE NERDS is a sign of the times, so it isn't exactly politically correct. While the music in the aforementioned race is clearly offensive when you think about it, the entire sequence is rooted in absurdity. First, those bikes are hilariously small. Second, they have to race laps while drinking more and more beer each lap (instead of water like a marathon).
It seems like all stereotypes (race, gay, gender, "nerd") may have been used to just flip them on their heads. After all, we come to love each of these "nerds".
Back in the way back, the drunk race was one of my favourite scenes. Another highlight was the retro synth-filled musical performance. You have to watch that YouTube video! I used to get really excited for this moment. Not only was it funny, but after a while that tune starts to get really catchy.
NERDS is full of 80s fashion too. The movie is definitely a sign of the era. You can also see how far technology has come in the following decades. Today, everyone has a computer, but back then they weren't so user-friendly. C:/ anyone?
Somewhere in the 2000s, being a nerd started to have a certain charm. Everyone else started to realize they had a bit of "nerd" in them too. Now, comic book movies get embraced at the box office and STAR WARS breaks records.
One of the best parts of this cult classic is the guilty pleasure shameless nudity. I'm thinking of when the guys watch the (morally abject, except in the 80s – could this movie get away with this now?) hidden cameras and the "Panty Raid."
These nerds have never been around women before. These guys have never been kissed. So, as a young teen growing up it isn't hard to relate to these guys.
They plan a seriously unethical and criminally punishable a fun prank on the neighbouring sorority. Really, this was a way for the studio to make money, like a lot of 80s flicks. T & A became more acceptable, and like violence in film, the audience embraced the R-Rated qualities in feature films.
NERDS was just one of a long line of raunchy sex comedies… but it's also one of the best with the most laughs. This VHS was passed around the neighbourhood, teaching horny teens and fans of comedy to adjust the tracking on their VCR.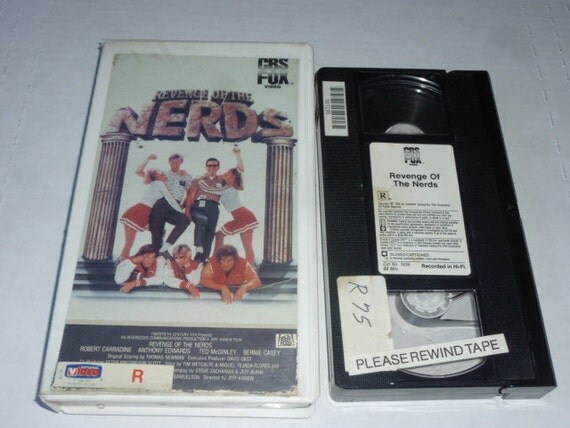 Find REVENGE THE NERDS and enjoy the cheese all over again. First time viewers, get ready to time travel, laugh, and turn down your P.C. levels so you can laugh your @ss off.
---
THAT'S SO 80s RATINGS
* note: ratings are out of 5 *
RETRO REWIND RATING (AKA WHAT 80S US THOUGHT)
MOVIEROB 
SLIP/THROUGH 
FAST FORWARD RATING (AKA HOW DOES IT HOLD UP)
MOVIEROB 
SLIP/THROUGH 
SO, HOW 80S WAS IT?
MOVIEROB 
SLIP/THROUGH 
---
What do you think?
Leave a message at the beep.
Check out MovieRob, and stay tuned for some special features leading up to the 2,000th review.
Follow us on Twitter @RealMovieRob and @slipthroughnerd