PREFACE: In the past couple of weeks I saw the rest of the buzzed about features; therefore, my Top 20 list has changed enough I thought it necessary to re-rank them with a new article. Half of the previous list are now bumped by new entries.
It was a great year for blockbusters and Oscar worthy films. A few indie gems also landed with impact. Slip/Through rates fun movies alongside serious ones. While 5 star reviews are rare, a drama is just as likely to receive a high rating as a blockbuster adventure. There is no shame here ranking EVIL DEAD 2 up there with SEVEN SAMURAI.
Let's dig in… Each pick will have a quick nerdy little blurb.
---
STAY TUNED FOR THE TOP 10 MOVIES OF THE YEAR, COMING SOON – FOLLOWED BY AN HONOURABLE MENTIONS ARTICLE.
---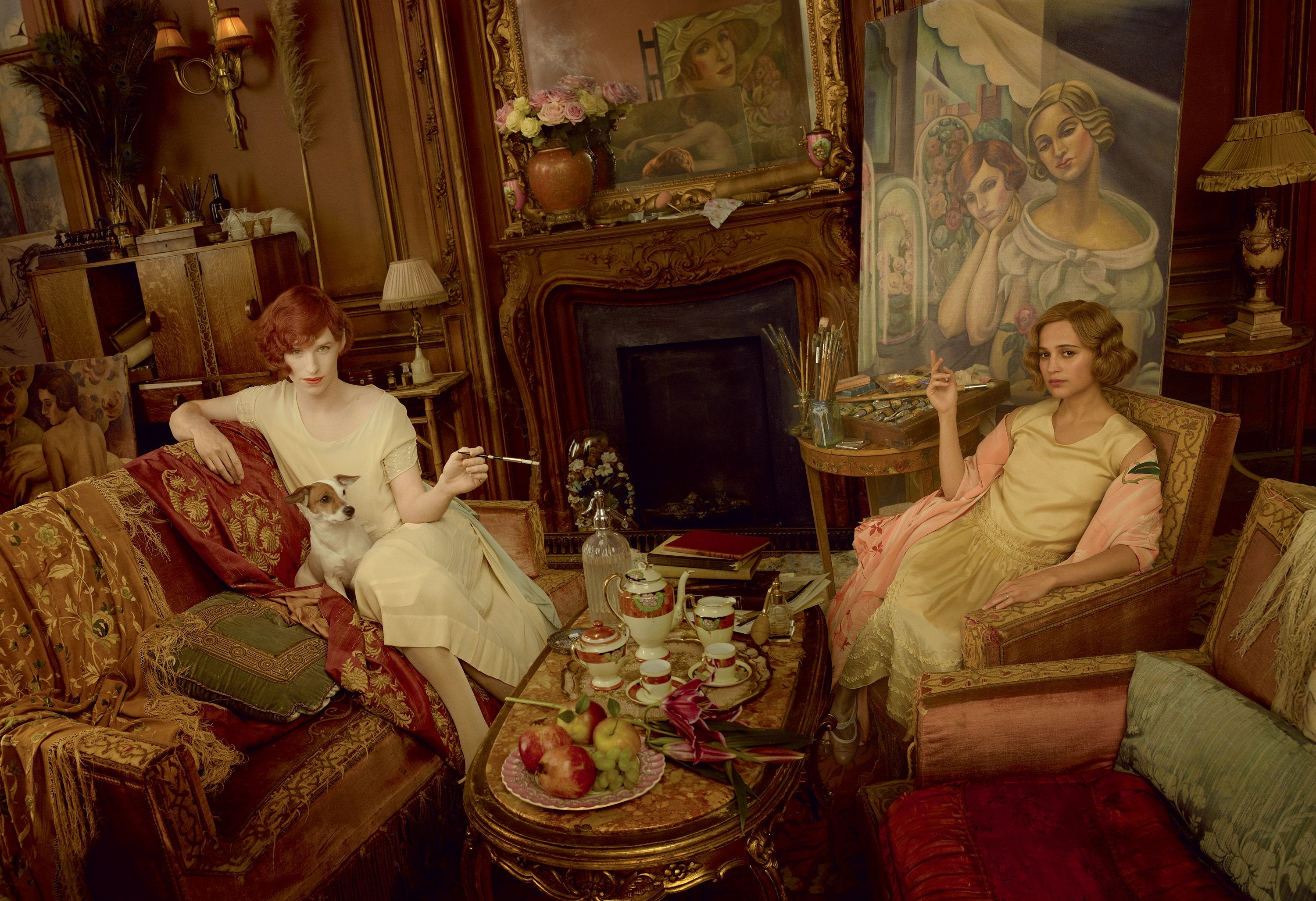 20. THE DANISH GIRL
DRAMA / TRUE STORY  // STARRING: EDDIE REDMAYNE, ALICIA VIKANDER, AMBER HEARD  //  directed by tom hooper
Redmayne and Vikander deliver amazing performances as best friends who get married. This story gets the most attention for telling the true tale of one of the first sex change operations and the effect this transformation had on the people involved. The director carefully avoids melodrama filming with a thematic lens framing poetic imagery. Vikander's character is so selfless and supportive. Because of Vikander's performance and her character's understanding we easily get absorbed in her journey. Redmayne is no slouch either, slipping into the skin of his character and totally disappearing (once again). I didn't expect to get so emotionally invested in this story.
19. Z FOR ZACHARIAH
DRAMA / sci-fi / THRILLER // STARRING: MARGOT ROBBIE, CHIWETEL EJIOFOR, CHRIS PINE  //  directed by craig zobel
On the surface, we have yet another post-apocalyptic movie; however, this parable digs much deeper than that. This self-contained and focused tale follows Margot Robbie – the seemingly lone survivor of catastrophe who now lives off of the land. Her world changes when she stumbles across a man in a hazmat suit (Chiwetel Ejiofor). How the relationship forms and stumbles is entirely captivating – saying so much, with so little. Their attempts at rebuilding society are complicated by their differing views on science and religion. Their evolving relationship gets more complex with the arrival of a stranger.
Now, I'm not a religious person (I'm more like Fox Mulder from X-FILES, as in "I want to believe"), but this is how you make a movie about faith. You don't hit the audience over the head with the message. You let them discover the deeper meanings on their own. This film is almost too subtle, but I love how it "emphasizes" its themes.
* Check the review *
18. BROOKLYN
DRAMA  //  STARRING: SAOiRSE RONAN, DOMHNALL GLEESON  //  written by nick hornBy (based on a novel by colm toibin)  //  directed by john crowley
A simple story told well is often the most powerful. This is the case with BROOKLYN. By devoting all its attention to character, we totally disappear. I became a young woman on the immigrant's journey from Ireland to New York of the 1950s. This coming of age story stands out because of the magnetic Saoirse Ronan. We are witnessing the birth of a star – a shimmering new constellation in the same celestial system as Cate Blanchett. You either dig this sort of down to the roots storytelling or you don't. If you love a great character piece you may have just discovered a new favourite.
17. HATEFUL EIGHT
WESTERN/THRILLER // STARRING: KURT RUSSELL, SAMUEL L. JACKSON, JENNIFER JASON LEIGH, BRUCE DERN, TIM ROTH, WALTER GOGGINS, MICHAEL MADSEN, CHANNING TATUM // WRITTEN & DIRECTED BY QUENTIN TARANTINO
Tarantino knows how to milk the tension. He's proven a master at it already. This version of RESERVOIR DOGS in a cabin, uses the entire runtime to try and figure out who's lying to who, and who will win the bounty. Filled with dark comedy and brutal violence, the epic vistas elevate this concept to another level. This is more than a violent shoot-em up, there is a lot of compelling character work going on. Unlike most Tarantino flicks, which are deliberately slow-paced, HATEFUL 8 actually felt slow at parts. The first few chapters were amazing, but there may have been one too many.
16. MAD MAX: FURY ROAD
ACTION // STARRING: TOM HARDY, CHARLIZE THERON, NICHOLAS HOULT, HUGH KEAYS-BYRNE, ROSIE HUNTINGTON-WHITELY // WRITTEN & DIRECTED BY GEORGE MILLER
This was the best ride of the year. Watching the latest MAD MAX was like riding a roller-coaster… the wooden kind… that shakes the crap out of you. While the plot was rather thin and the dialogue rather sparce, the bombastic spectacle assured we were entertained. Theron takes over the movie, while Hardy takes a back seat. The stuntwork is incredibly impressive, and the large scale cinematography made this action flick feel epic. Personally, I could have cared more about Max, and would have enjoyed more motives for his mission. The Furiosa storyline deserves its own feature, and was much more enjoyable than Max's journey of out of the frying pan and into the fire.
* Check the review *
15. THE MARTIAN
SCI-FI // STARRING: MATT DAMON, JEFF DANIELS, JESSICA CHASTAIN, CHIWETEL EJIOFOR, KATE MARA, KRISTEN WIIG, MACKENZIE DAVIS // WRITTEN BY DREW GODDARD // DIRECTED BY RIDLEY SCOTT
This incredible adventure had its fair share of laughter too. Survival has rarely been this exciting. Instead of using guns to overcome obstacles, Damon's character has to use his mind. The spectacle and thrills were amazing, but the ensemble cast proved distracting. That said, Ridley Scott returned to form proving he's still the best at science fiction adventure. The visuals alone are a delight to look at.
* Check the review *
14. DOPE
COMEDY/DRAMA // STARRING: SHAMEIK MOORE, TONY REVOLORI, KIERSEY CLEMONS, ZOE KRAVITZ, KIMBERLY ELISE, A$AP ROCKY // WRITTEN & DIRECTED BY RICKY FAMUYIWA
The big surprise of the year was this energetic comedy in the vein of Spike Lee's DO THE RIGHT THING. We get a refreshing character in a familiar setting. Our heroes love 90s hip hop culture, and enjoy their outsider status. These retro nerds are thrown into crime, when drugs are placed inside our hero's backpack. Most of the film plays off like a chase, but really the story is framed on a coming of age device. This movie has a John Hughes vibe, feeling more like BREAKFAST CLUB and less like BOYZ N THE HOOD. The young lead actor (Shameik Moore) delivers a real stand-out performance, amongst the year's best.
13. CAROL
DRAMA/ROMANCE // STARRING: CATE BLANCHETT, ROONEY MARA, SARAH PAULSON, KYLE CHANDLER // WRITTEN BY PHYLISS NAGY // DIRECTED BY TODD HAYNES
Subtle and complex, this careful approach to the relationship drama is masterfully handled by Haynes. With a delicate subject matter, Haynes balances the emotion so it never goes over the top or gets too on-the-nose. For example, he will often obscure a clear view of his characters. He will show them behind a window reflecting the outside world, or cascading with rain, begging us to wonder what they are thinking.
Astounding performances utterly captivate the viewer, inviting us to step into their skin. While Blanchett gets all the hype, Mara delivers a much more subtle and mesmerizing performance. Her gaze is magnetic, drawing us towards participation. The bold structure frames the ending in a new context, ensuring this drama is never boring. I'm not normally excited by this genre, but this one was masterfully executed with a sure hand.
12. STRAIGHT OUTTA COMPTON
DRAMA / TRUE STORY  //  STARRING: COREY HAWKINS, JASON MITCHELL, O'SHEA  JACKSON Jr., PAUL GIAMATTI  //  DIRECTED BY F. GARY GRAY
This energetic biopic rewinds the tape back to the 80s and the birth of hip hop with the notorious group of "reality rappers", NWA. Fans of the group finally have their AVENGERS style big budget movie, with superhero cameos by Tupac and Snoop. Tight pacing almost makes the story move too fast. With so much content to cover, this could have made an amazing mini-series. The lead cast of impressive unknowns become their characters. Corey Hawkins and Jason Mitchell are already scooped by Hollywood, starring together in the upcoming SKULL ISLAND (a.k.a. the new KING KONG). We have just seen a glimmer of what these talents are capable of.
* Check the review *
11. IT FOLLOWS
HORROR  //  STARRING: MAIKA MONROE  //  WRITTEN & DIRECTED BY david robert mitchell
The best horror movie of the year is a stylishly filmed cautionary tale paralleling the dangers of promiscuity. The refreshing "monster" of this scarefest is an invisible entity which constantly follows our hero. No matter what, this presence is always moving towards its victim. Each scare is staged perfectly, slowly taking its time to milk the tension. Stylishly framed like retro horror master John Carpenter, IT FOLLOWS constantly keeps you on the edge of your seat with intense anticipation.
* Check the review *
---
STAY TUNED FOR THE TOP 10.
Some buzzed about movies that I have yet to see include MACBETH, ANOMALISA, KNIGHT OF CUPS,  CHIRAQ, THE GIFT,  AMY, WHAT WE DO IN THE SHADOWS, LOVE & MERCY, SLOW WEST, and TANGERINE.
---
What do you think?
Leave a comment.
What are your favourite films of the year? Make your pick by voting for the UNITY MOVIE AWARDS.
tweet tweet @slipthroughnerd