This Special Nerdy Feature includes predictions as well as official tie-in videos created specifically for this day in movie history: October 21, 2015
October 21, 2015 has finally arrived. This day was immortalized on screen by the legendary cult classic BACK TO THE FUTURE: PART 2. At the time, this fan favourite sequel was satirizing pop culture of the 80s in wacky and zany ways, imagining what our world would look like if we continued on the same path. Surprisingly, this iconic sci-fi comedy actually predicted several things right.
This article will highlight what BACK TO THE FUTURE 2 got right, what went wrong, and the predictions we wish really really happened (*cough* Mattel).
Since fans continue to love this amazing franchise to this day, products that did not exist have been created specifically because of the movies devoted fan-base and immortal legacy.
There are also a few awesome tie-in videos (like Nike and Pepsi commercials) that have hit the Internet in anticipation of this monumental day in history. You've got to watch these!
All of this nerdy goodness is featured here, your one-stop source for BACK TO THE FUTURE goodness.
---
BACK TO THE FUTURE 2 PREDICTIONS THAT WENT RIGHT
Flat screen TVs and lots of television stations.
Video games played hands free.
Personal technology used at the dinner table.
Commonly used Drones.
Slang-words like "Bojo", "Lo-Bo", and "Tranks" – kind of like "Yolo" and "LOL".
---
PREDICTIONS THAT ALMOST WENT RIGHT
Biometric identification, like retinal scans or fingerprinting.
Hoverboards on the streets.
JAWS 19. The movie correctly predicted out of control sequelitis in Hollywood though, with movies FURIOUS 7 blowing up the box office.
Flying cars aren't quite common place. While prototype vehicles exist, the cost has not been lowered to consumer levels — Where we're going, we still need roads.
This one could technically go right – the Chicago Cubs are still in the baseball playoffs. They could win the 2015 World Series, just like the movie predicted. However, I'm thinking this was a cruel sports joke the writer made since the Cubs haven't won since 1908, kind of like the old RedSox will never win joke (except they did, right).
---
PREDICTIONS THAT "FANS" MADE REAL
check the videos below – commercials and trailers
Nike actually made Marty McFly versions of their shoes that appeared in the movie. While they do not automatically fasten or tie themselves, they look awesome. This is as close as we might get. * There are some modified shoes that fans made to auto-tie. *
Mattel has created mock Hoverboards. They look like the 80s version of the future, but do not actually hover. I saw an auction online starting at $30,000. However, other companies are progressing and have functioning prototype models.
Deloreans that look ready for time travel are real. Fans have bought models of the infamous car and modded it out to look exactly the same as Doc Brown's invention.
Fans have made fake trailers for JAWS 19 and Universal has made an official parody trailer as well (check the YouTube video below). While we won't see the name on the cinema marquee, its still pretty amazing that this small joke in BACK TO THE FUTURE 2 inspired fans to create mock sneak previews.
---
BACK TO THE FUTURE SWAG
---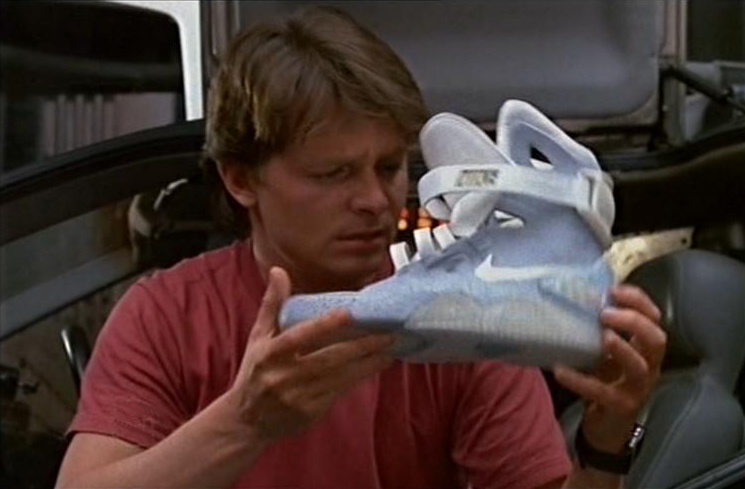 ---
---
---
---
NERD ALERT: Loot Crate subscribers (like me) were treated to 2 exclusive special items to celebrate today.
---
What do you think? Leave a comment below.
The future is now. Follow me @slipthroughnerd