Here's another article I wrote for ThatMomentIn.com in my weekly column Cinema Remembered.

It's really amazing to be a part of the Moment team. Stop by and enjoy the view. And Happy 1 Year Anniversay to That Moment In !!
That Moment In.com
Welcome to CINEMA REMEMBERED:  Remembering the Best Moments in Film, So You Don't Have To. I'm Dan, a fellow movie nerd from SLIP/THROUGH – a movie site highlighting the stuff you don't want to slip through the cracks.
THIS WEEK:  T2: Judgment Day, an intense time travel action flick with killer robots. Oh, and Arnold Schwarzenegger at the height of his action hero movie stardom.
Enjoy The Moment.
---
HOW IT STARTS: The Terminator sacrifices himself to prevent it's own existence, giving an emotional "Thumbs Up."
Arnold Schwarzenegger
THE PREFACE: T2: JUDGEMENT DAY is one of the greatest action films ever made. James Cameron one-upped his original film by shifting Arnold Schwarzenegger from villain to hero. This time around, the Terminator is sent back in time to protect John Connor from the evil liquid metal T-1000.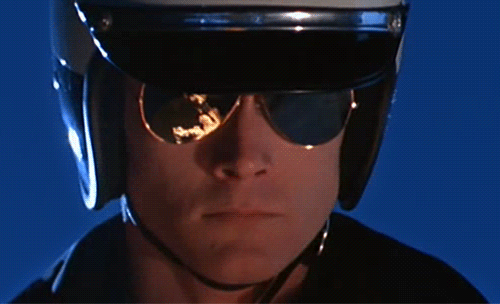 Robert Patrick is the T-1000
While TERMINATOR 2 may be well known for its ground breaking…
View original post 883 more words