EMILY BLUNT is an action hero. She already stole scenery from Tom Cruise in THE EDGE OF TOMORROW, proving she is all ready to lead her own adventure.
Instead of returning to science fiction, Blunt tackles gritty reality in SICARIO. She plays a State Department Border Patrol officer who makes a dangerous discovery. Her loyalty will be tested.
Her job is to protect the country. The question is: How far will she go?
From the trailer, SICARIO feels like TRUE DETECTIVE meets a more focused and stream-lined version of Soderbergh's TRAFFIC.
This stylish sneak preview had atmospheric music and cool titlecards switching from Spanish to English that helped set the stage.
Canadian director DENIS VILLENEUVE helms this adult thriller. PRISONERS, his previous effort in the genre, was a labyrinthine exploration of justice and revenge.
His mind-bending thriller ENEMY reunited him with Jake Gyllenhaal in a TWILIGHT ZONE meets HITCHOCK strange doppelganger tale.
These films are complex and beautiful. They are unflinching portrayals of complicated ethics and fractured psyches. 
With Villeneuve working in a familiar genre supported by an impressive ensemble cast, SICARIO is a highly anticipated film.
The story seems just complex enough, adding to the anticipation. To put it briefly, Mexican Cartel activity escalates as violence bleeds across the border.
Blunt discovers dead bodies hidden within the walls of a property she stormed with fellow Agents.
She unwillingly steps into the murky waters of corruption drowning several agencies including Blunt's border patrol, the FBI, and the CIA.
JOSH BROLIN plays an FBI agent who forces Blunt to work outside of her department. It seems like they have a mission in a Mexico border-town. The cartels are extremely dangerous and Blunt isn't trained for this.
The city looks more like the war-torn Middle East than America. Eerie realism there. Then the trailer swerves right into action, as their Army-like caravan of vehicles is ambushed in the streets by heavily armed men.
Cut to: Blunt covered in blood, washing away gore in the shower. This is her reality now.
Later, Blunt expresses her hesitation with Brolin, saying: "I'm not a soldier. This is not what I do." Brolin replies, "This is what happens when they dig in."
From this matter-of-fact exchange, you get the feeling Blunt has no choice but to get involved.
From what we've seen in the trailer, Brolin already seems a little dirty. It seems like he attempts to coerce Blunt into cooperating with a cover up of sorts. Except, she isn't biting. He subtly threatens her, "You saw things you shouldn't have seen."
Blunt later questions their involvement with the cartel. Brolin justifies it with, "We're providing a measure of order that we could control." I like the metaphorical parallel with Blunt's resistant character. Brolin might have thought she'd be easier to manipulate and control.
The last haunting moment between Brolin and Blunt suggests the measures this man will go through to save himself (or who he works for). This conflict filled relationship should be a delight to watch.
When Blunt sticks to honour and her obligations saying, "I'm going to tell them what I saw," Brolin sets off my movie nerd Spidey-sense with his villainous words, "That'd be a major mistake."
Something makes me think he's not just simply looking out for his fellow agent.
BENICIO DEL TORO rounds out the main cast. It seems like he's a hitman (sicario in Spanish) working for the CIA. The trailer made it seem like he was antagonistic, but I'm thinking he'll end becoming an ally to Blunt, while Brolin swaps places as the villain.
His character is mysterious for now – like this highlight of suggestive dialogue from Del Toro, "I go where I'm sent."
Del Toro's performances are always delicious. I can't wait to digest this one.
SICARIO could be a very important move in Emily Blunt's career. She's co-starred in several high profile films recently like LOOPER and INTO THE WOODS. But here she has a chance to lead the way in a serious adult thriller. This could be Blunt's Clarice Starling.
She will have a chance to flex her dramatic muscles while also handling automatic weapons. That one shot of Blunt handling the rifle says it all. Her posture is in command, molded by training, but her gaze is cautious, lost, and scared.
Blunt will be tested by worthy adversaries with Brolin and Del Toro sharing the screen. And Villeneuve is one of the brightest rising stars behind the camera. He's the main reason I'm so excited to watch SICARIO.
The talent driving this film promises a daring and captivating adult thriller with layered performances and compelling political commentary.
---
What do you think?
Are you looking forward to Emily Blunt leading an action thriller like SICARIO?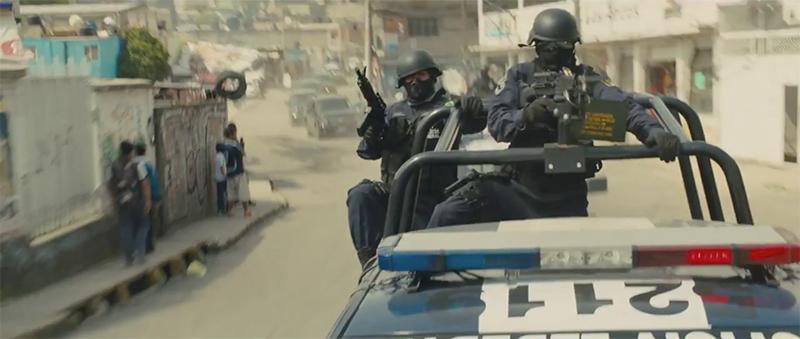 Leave a comment.
TWEET TWEET @slipthroughnerd