This TINA FEY created comedy is one of the best series out there today. Tune in to NETFLIX and discover KIMMY for yourself.
Each episode mixes the strangest sense of humour with non-sequiturs, slapstick, and dated pop culture references.
Episode 8 of UNBREAKABLE KIMMY SCHMIDT focuses on the fantasy Hollywood sells through movies and television shows. Everyone wants to come to New York and fulfill their wildest dreams because they were inspired by what they saw on screen.
Kimmy came to NY for that very reason – to chase her dreams. And so did her fellow adult high school student Dong. This time out they team up to prepare for their G.E.D.
Before we get to that storyline, let's comment on the opening sequence filled with 90s references.
Kimmy jogs through Central Park, listening to her Walkman. That's right, her yellow framed audio cassette playing monolith from the past. Everyone had one of these back in the day. I love how she still uses it, probably listening to her favourite mix-tape of Bel Biv Davo and Young MC tracks(?).
She runs past a large water fountain in the park. The charming and gullible Kimmy clues in with this hilarious observation, "Central Perk? I just got that." That won't be the last FRIENDS reference of the episode either.
She also spots some familiar faces from another legendary 90s sitcom – Jerry and George look-a-likes – as (I shit you not) the SEINFELD theme music kicks in.
The Side A storyline follows Kimmy and Dong. Kimmy needs help with Algebra, and Dong needs help with his take-out delivery job. They agree to help one another.
Over the course of the show their relationship will grow stronger, bonding over shared dreams inspired by 90s pop culture.
Kimmy tells her landlord (UKS's Kramer, Carole King) about Dong. King's character is always out of the loop – or a little loopy – delivering great nonsensical jokes one episode after the other.
This time when she hears about Kimmy's study partner, Dong, she hilariously replies:
"He's not just that. He's also a mouth and a butt."
Meanwhile on the B Side… Titus is another UKS scene-stealer. He never wants to help anyone with anything, unless it helps himself. He's a lovable selfish.
This episode, he has a gig where he dresses up as a werewolf. The sight alone is worth a laugh. Whatever he says has an extra layer of hilarity because of his ridiculous appearance.
Before he heads off for work, Kimmy asks for help with her Math homework, Titus cracks a great joke:
"I'm from Mississippi. I was taught that an asteroid came and wiped out the dinosaurs… because they were gay."
The laughs continue with Titus, as the episode progresses. Later, he walks to work in full make-up and costume. He thinks he'll be late. Cabs never stop for him anyways, and now that he looks like a monster who howls at the full moon, he'll never get to work on time.
Turns out, Titus gets treated way better as a were-wolf than a Black man. Everyone is nice and polite to him. It could be a White dude under there, right. 😉
UKS comments on society, but with its tongue planted firmly in cheek. Example: Titus raises his hand for a cab and one immediately screeches to a stop for him.
Another B Side track follows Kimmy's employer (JANE KRAKOWSKI) who's upset about how broke she is now without her husband. She has only $12 million to work with.
The best joke from this storyline was when Kimmy's boss prepared a tasty burger. Not for her lunch. No. She's watching her figure. She orders Kimmy to eat the sloppy burger in front of her. She'll experience lunch vicariously through Kimmy.
Side A conclusion… Kimmy and Dong talk about their dreams while they help each other. Dong came to NY because of the movies.
When Dong talks about his favourite show, "Six White Complainers", a.k.a. FRIENDS, Kimmy realizes they share a common love. We also get to see the hilarious translated subtitles for the theme song.
Next up, Kimmy and Dong go to the Central Park fountain to live out their fantasy of recreating the opening credits theme song of FRIENDS.
Their illusion is shattered when they learn the credits were filmed on a soundstage in Burbank. These new-found friends are disenchanted when they discover their fantasies are false.
UNBREAKABLE KIMMY SHMIDT balances these sort of morality tales and lessons of growing up with a variety of the best humour of any series out there. Every episode guarantees tons of laughs for different reasons.
Each character has their own sense of humour and their own anxieties and insecurities. These people seem real in a world focused on selling the fake.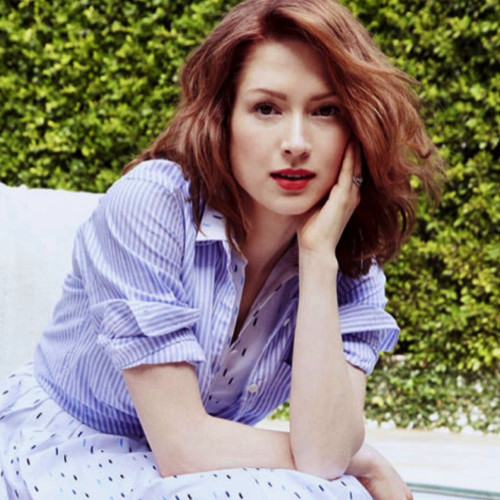 Ellie Kemper in the starring role is the main reason to watch UKS.
The writing is truly side-splitting and gut-busting, but Kemper's affable goofball is totally the reason why this series is Must Watch TV.
Stay tuned for more reviews coming soon.
---
What do you think? Leave a comment below.
TWEET TWEET @slipthroughnerd