"A mission to Mars. A freak accident. One man's struggle to survive."
And I'm sold… by that powerful and concise tagline quoted from the book cover to THE MARTIAN.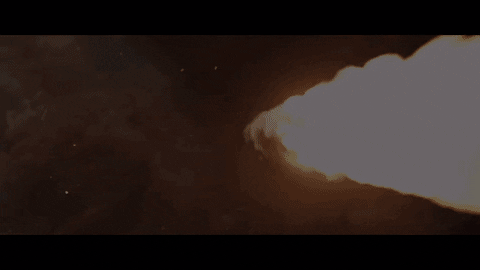 What a strong premise. And it gets better. The upcoming sci-fi movie adaption is filtered through the glorious imagination of legendary director RIDLEY SCOTT – the mind and eyes behind such genre classics as ALIEN and BLADE RUNNER.
MATT DAMON portrays the astronaut stranded on Mars. Disaster strikes during a manned mission to the red planet. Damon is thought dead and left behind.
He has limited rations. He is beyond contact. He is truly alone. He must "science the shit out of it" to extend his survival.
Even if he contacts NASA for help it will take them months to arrive. He'll have to find a way to MacGuyver his limited resources into renewable resources. He'll have to convert Martian soil to cultivate crops, for example.
Every last detail must be planned ahead of time. It's a truly harrowing and daunting task for Damon to be confronted by.
The trailer reveals certain story elements that may annoy some movie fans because it show us too much. However, if the only images we saw were of Matt Damon a lot of the audience would ignore THE MARTIAN – those same people who (some how) hated CASTAWAY and GRAVITY. And since this movie has such an impressive cast it'd be foolish not to focus on them during promotion.
Turns out Damon finds a way to contact his crew. They're flying away from Mars, and have a difficult decision to make. Break NASA orders and return for Damon, risking their own lives in the process, or stay the course for a return to Earth.
The astronauts are portrayed by an amazing bunch of actors. JESSICA CHASTAIN (ZERO DARK THIRTY, INTERSTELLAR) leads the way in space, while CHIWETEL EJIOFOR (12 YEARS A SLAVE, David Mamet's REDBELT) works back on Earth with NASA Mission Control.
KATE MARA (HOUSE OF CARDS, FANTASTIC FOUR), MICHAEL PENA (END OF WATCH, FURY), SEBASTIAN STAN (WINTER SOLDIER) are the notables that round out the astronaut crew.
Imagine if the trailer made no mention of these noted actors. Sure, we would have more plot surprises, but might not all be sold on the idea of a stranded man on Mars. The producers have to play their hand, especially when it's loaded like this.
JEFF DANIELS (HBO's NEWSROOM) leads the NASA side of things back on Earth. He decides to tell the public Damon has died during the mission. He doesn't want the crew to attempt a rescue. He effectively becomes the antagonist alongside Mother Nature.
Daniels was so good on NEWSROOM, it'd be great to see him get more recognition. Maybe this high profile role will do just that.
KRISTEN WIIG (BRIDESMAIDS, SKELETON TWINS) also has a role Earth-side. It's refreshing to see her tackle more dramatic roles. She could follow in the comedic traditions of actors like Robin Williams, Tom Hanks, and Jim Carrey.
It seems like she's part of the NASA Mission Control team – probably on the astronauts' side. It would be nice to see her butt heads with Jeff Daniels on screen.
The strong concept behind THE MARTIAN is enough of a hook. Survival films are always a favourite. This one ups it one notch by the setting of another planet. The concept also has a strong ticking clock scenario. Or several. One after the other.
Damon has to manage several life or death situations. The most intriguing element is he must use his mind to overcome these numerous obstacles… not a machine-gun and a hail of bullets.
The trailer doesn't just focus on managing resources and trouble-shooting. There are several action packed scenes of excitement. There is the initial catastrophe and harsh weather to deal with as well.
Scott knows how to craft excitement. He can find a way to torque the tension in any given scenario – like that saying, "Out of the frying pan and into the fire."
With a concept so full of potential, Scott should have a field-day entertaining us with THE MARTIAN. 
The MARTIAN book was written as a series of video logs by Damon's character. It was one diary entry after another. A day-by-day account of his survival.
Scott wisely chooses to use these vlogs as voice-overs while showing us the day's events. He seems to also wisely break the structure to focus on the other crew and NASA Mission Control.
For those intrigued enough by the movie (upon its release) should pick up the book for a pseudo-Director's Cut version of the story.
Scott is a master director of the genre – a sci-fi movie wizard. His films are magical. Even when he misses the mark, his movies are better than most other big budgeted Hollywood extravaganzas.
THE MARTIAN already seems to be on par with Scott's better films in the genre.
With the legend behind the lens, a truly stellar cast, and the story from a best selling novel, THE MARTIAN is one the most anticipated films of 2015.
This should be a truly intense tale of survival.
---
What do you think?
Leave a comment below.
TWEET TWEET @slipthroughnerd