GUILLERMO DEL TORO gifts the nerd community with a return to the horror genre. With CRIMSON PEAK, the grand-master of horror/fantasy has constructed an atmosphere-choked authentic Gothic ghost story.
MIA WASIKOWSKA leads the impressive cast as a visitor to a strange mansion in an almost Lovecraftian setting. She is compelled by the mysterious residents, featuring TOM HIDDLESTON.
It seems like the inhabitants somehow need new guests to supernaturally feed the house. The ghosts within the walls are hungry. 
Perhaps Hiddleston is a ghost himself, with vampiric qualities requiring him absorb the life-force of house-guests?
If he isn't conspiring with others to acquire souls for the house's spirits, perhaps he's fending off a curse that keeps him forever young. It's kind of like a movie mash-up of the DORIAN GRAY painting hung up on the walls of the Overlook Hotel from THE SHINING.
The music driving this trailer is reminiscent of legendary genre composer JERRY GOLDSMITH and his work on the original ALIEN. The orchestral score shivers with ethereal otherwordliness.
Paired with the haunting images on screen, the Goldsmith flavour really amplifies the atmosphere, beautifully complimenting the companion emotions evoked visually. 
The images of horror are truly frightening. Amidst the smoky ectoplasm, the ghosts appear to be in a state of decomposition.
These decrepit specters remind me of PETER JACKSON's horror movie days and the visual appearance of his ghosts in THE FRIGHTENERS.
Except, CRIMSON PEAK doesn't play it for laughs. The horror elements from the trailer are nothing to laugh at.
Imagine how scary these images will be once we've experienced the tease of the set-up and slow atmospheric build-up towards the supernatural?
It's been a long time since horror movies were actually scary. We're due. We're past due. 
A powerhouse ensemble certifies the legitimacy of CRIMSON PEAK. JESSICA CHASTAIN and CHARLIE HUNNAM round out the cast. It seems like Chastain is an authority figure in command of house affairs, with a mysterious past linked to Hiddleston's character.
Chastain garnered tons of Award attention with her starring role in ZERO DARK THIRTY. She's appeared in several respected films in a few short years. Her previous effort in horror was the rather surprising gem MAMMA.
Hunnam previously worked with Del Toro as the hero of PACIFIC RIM, and is coming off the conclusion of his popular series, SONS OF ANARCHY, where he played the lead. Will he have another starring role here in CRIMSON PEAK?
Or will he return later to rescue our captive hero? Perhaps Hunnam pulls a JANET LEIGH, portraying an introductory victim, laying the groundwork for the proceedings and Wasikowska's arrival?
Hiddleston is a nerd favourite because of his involvement as LOKI in the MARVEL Universe. His role here as a romantic lead will not be far-fetched for a lot of women in the audience.
This compelling leading man co-stars alongside Wasikowska, but appears to have a stronger connection with Chastain's character.
A connection formed over many long years, perhaps? Are these two immortal lovers?
Chastain could be family, or a lover? If so, jealousy may put our hero in jeopardy. Especially, if Chastain somehow commands or interacts with the spirit world.
Wasikowska is blazing a brilliant path on the silver screen thus far in her young career.
She burnt up the screen with a smoldering performance in the introspective horror STOKER (an odd slow brew thriller from Park Chan Wook – OLDBOY).
And she calmly flickered like torchlight in the introspective journey film TRACKS (an underrated equivalent to Reese Witherspoon's WILD).
Wasikowska has appeared in several noteworthy performances, from leading the way in Tim Burton's ALICE IN WONDERLAND, to the eccentric scene-stealer in Jim Jarmusch's AS I LAY DYING (with Hiddleston as a lonely depressed musician / vampire).
It's so great so her in a big budget movie like this. Wasikowska's capacity to play the internal world and magnetically draw us towards participation promises a captivating lead performance in Del Toro's CRIMSON PEAK.
Del Toro returns to a genre he excels at. His big Hollywood hits like HELLBOY and PACIFIC RIM are some of the best of the big budget effects sub-genre.
His earlier efforts in films like CRONOS, THE DEVIL'S BACKBONE, and PAN'S LABYRINTH were thoughtful examinations doused in thick atmosphere. 
This cinematic mastermind's return to horror with CRIMSON PEAK is long overdue.
This mad scientist has been scorched by the flames of Development Hell with the long on the rotating-spitt IN THE MOUNTAINS OF MADNESS. This HP LOVECRAFT adaption is perfectly suited for Del Toro. It's the horror project he was born to make.
Perhaps some of his pre-production preparation for MADNESS will be put to use in CRIMSON? Lovecraft is known for his isolated settings and bleak hopelessness. Let's hope some of that seeps into this horror flick.
One part of the Three Amigos, Guillermo Del Toro has enjoyed the most cross-over success. His compadres and fellow directors, Innaritu and Cauron, have enjoyed great success in the critical sphere with films like BIRDMAN and GRAVITY.
But Del Toro is the who has connected with the movie nerd realm of fantasy geeks obsessed with creature effects, comic books, anime, and true horror – all the while appeasing the critics.
CRIMSON PEAK will be his largest experiment in the genre. With a large budget, Del Toro's limitless imagination is set loose to play on a near limitless playground.
Add in the aforementioned and glorious cast, and CRIMSON PEAK easily becomes one the most anticipated movies of 2015.
This trailer provided just a small sampling of what's in store. There is no doubt that the audience is in for pure delight.
Horror fans will experience that rare feeling devoid in most genre flicks: fear. Pure fear. Terrifying horror. These elements fuel the scary ride that is a horror film.
Just like a super intense roller coaster, we are elated upon surviving.
CRIMSON PEAK will test our limits. As an audience, are we sick of all these ghost movies popping up? Has the paranormal thing run its course already?
Or is true auteur Del Toro about to show these filmmakers how it's really done?
With CRIMSON PEAK, we very well could have the best Gothic horror movie since THE OTHERS.
---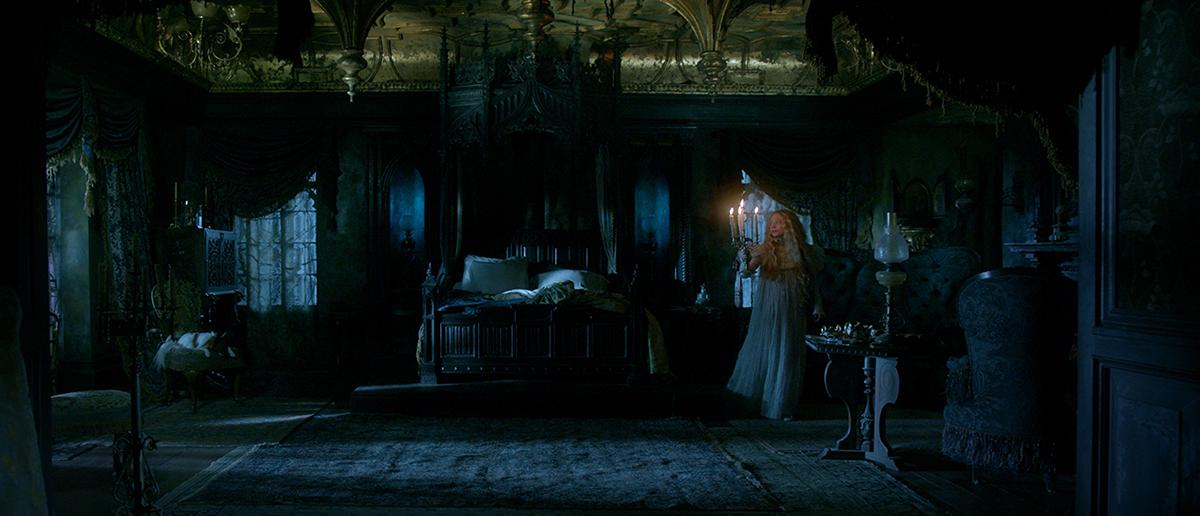 What do you think?
Leave a comment below.
Check out the amazing score from ALIEN by Jerry Goldsmith. Does it remind you of the music in the CRIMSON PEAK trailer? (Wait for it… It's a specific element)
TWEET TWEET @slipthroughnerd