I hope you all liked the Best Drama list. There are so many indies and Hollywood movies that could contend for Oscars by the end of the year. Compiling the TOP 30 was way harder than I thought it'd be.
I'm shining a spotlight on these super compelling films with this HONOURABLE MENTIONS list. These movies are listed in alphabetical order. I'm sure there are even more to add. I'm hoping to point out some smaller stranger films that might not get hyped.
I really hope you guys and gals like this list. Stay tuned for a similar treatment with the BLOCKBUSTER action and adventure films I'm looking forward to. I'm sure a lot of people are more interested in the movies comprising the so-called YEAR OF THE NERD.
Let me know if you have a movie you don't want to SLIP THROUGH the cracks this year.
I'm all about discovery. Leave a comment below.
---
ALOHA // Director/Writer: Cameron CROWE // Starring: Bradley COOPER, Emma STONE, Rachel McADAMS, Bill MURRAY, Alec Baldwin, John Krasinski
A celebrated military contractor (Cooper) returns to Hawaii to reconnect with a long lost love (McAdams), while unexpectedly falling for his hard charging Air Force watchdog (Stone) assigned to him.
I really loved Crowe's ALMOST FAMOUS. And while he hasn't had a solid hit lately, I'm still looking forward to his work here. The trailer gave a good idea of what to expect – romance and laughs. I find Crowe can make so-called chick flicks that aren't cheesy or melodramatic and are actually funny. I'm thinking ALOHA could deliver on this, largely because of the actors. I've enjoyed Cooper as a romantic lead before, and I find Stone to be the perfect blend of beauty and wit.
---
BRIDGE OF SPIES // Director: Steven SPIELBERG; Co-Writers: The COEN BROS // Starring: Tom HANKS, Amy Ryan, Alan Alda
Set during the Cold War. A lawyer negotiates the release of pilot whose plane was shot down in the Soviet Union.
Spielberg has dabbled with war before, to great success. His PRIVATE RYAN with Tom Hanks is one of the best war films ever. The Coen Brothers involvement here is quite intriguing. Apparently, they polished a screenplay from a first time writer. I'm hoping this film isn't as dry and slow as Spielberg's recent films. Maybe there's a chance for some exciting dogfight sequences here.
---
BY THE SEA // Director/Writer: Angelina JOLIE // Starring: Brad PITT, Angeline JOLIE, Melanie LAURENT
Takes place in 1970s France. An estranged american couple wander the country. A quiet seaside town of maritime dwellers draw them in, guiding the couple towards spiritual rejuvenation.
Jolie filmed with natural lighting. Impressive. I heard this could be like the old European arthouse films. I wonder if Jolie will also homage Terrence Mallick? Or something like Stanley Kubrick's marital hauntings of EYES WIDE SHUT? Jolie and Pitt have become quite the behind-the-scenes couple, with the former directing and latter producing.
---
DOPE // Director:  Rick Famuyiwa // Starring: Unknowns, with Forest Whitaker, Kimberly Elise, Zoe Kravitz
Outcasts / best friends in Inglewood, California are obsessed with '90s hip-hop – from the music to the fashion.
Starring a cast of unknowns, DOPE was a big hit at the recent SUNDANCE festival. It's getting a lot of hype. Every now and again, a new KEVIN SMITH or RICHARD LINKLATER appears out of nowhere. They don't care about plot, they care about characters. They focus on a clique and we hang out with these afficianados. We just hang out. And we never knew that's exactly what we wanted to do at the cinema. It's refreshing to meet new people, instead of watching cardboard characteristics explode in a popcorn-munching blockbuster. I can't wait to take a trip back in time. I was into hip hop culture during that period, so DOPE will be a blast to the past.
---
ENTERTAINMENT // Director: Rick Alverson (THE COMEDY, NEW JERUSALEM) // Starring: Michael CERA, John C. REILLY, Tye SHERIDAN, Gregg Turkington
An aging comedian tries to reunite with his daughter. He plays dead-end shows across the Mojave desert, encountering oddball characters along the way.
The concept sounds just unique enough. It combines the road trip movie with the estranged child relationship. I'm looking forward to the strangeness. I'm also expecting some emotional exploration from unlikely actors. The new director is getting a lot of attention lately. I'd like to find out what all the hype is about.
---
GREEN ROOM // Director: Jeremy Saulnier (BLUE RUIN) // Starring: Anton YELCHIN, Imogen POOTS, Patrick STEWART
A punk band witnesses a horrific act of violence after a gig, and are targeted by neo-Nazi gang.
BLUE RUIN has a good reputation, as one of the best revenge films in recent years. I wonder how this daring director will handle his sophmore effort. The concept seems pretty straight forward. The young talent is compelling, both Yelchin (RUDDERLESS) and Poots (JIMI) have been stacking up good roles lately. The involvement of Patrick Stewart brings some gravitas to the preceedings. Will he play the villain here – a big bad neo-Nazi? That would be really intriguing.
---
IRRATIONAL MAN // Director/Writer: Woody ALLEN // Starring: Joaquin PHOENIX, Emma STONE
A philosophy professor in existential crisis starts dating a student, giving his life new meaning.
Here comes the yearly Woody Allen deconstruction of character relationships. The man always finds something new to say. His neurotic characters explore our own mortality, but avoid a totally depressing analysis. I'm looking forward to the collaboration between two mad scientists: Allen and Phoenix. Stone is captivating. She seems to be exploring more dramatic roles lately. I wonder if this could be her ANNIE HALL – crossover appeal from the arthouse critics and regular movie-goers.
---
JANE GOT A GUN // Director: Gavvin O'Connor (WARRIOR) // Starring: Natalie PORTMAN, Ewan McGREGOR, Joel Edgerton
Western. A woman protects her husand from a gang he betrayed. She's aided by an old flame.
This Black List script has had quite the troubled production history, changing directors and actors several times. Really, this is another chance for Portman to portray a badass feminist. There are a lot of highly anticipated Westerns this year, but this is is the only one with a lead female protagonist. I'm looking forward to this fresh approach and a possibly iconic performance from Portman.
---
KNOCK KNOCK // Director: Eli ROTH // Starring: Keanu REEVES
The trailer didn't give away much. It was all atmosphere. With that stinger at the end: a movie from Eli Roth – the mad scientist behind CABIN FEVER and HOSTEL. This looks like it explores the thriller genre more than horror. I'm expecting Keanu to get manipulated by these young vixens. But I'm not sure how the tables will turn. I'm getting WILD THINGS vibes. I'm sure with Roth puppeteering we'll have extremely high tension.
---
THE LAST FACE // Director: Sean PENN (INTO THE WILD) // Starring: Javier BARDEM, Charlize THERON, Jared Harris, Jean Reno
A doctor and a director of an aid agency in war-torn Liberia fall in love, but passionately disagree with the other's approach to the life-threatening issues surrounding them.
Penn is never one to shy away from politics. He doesn't fear highlighting worthy causes. This film could be a passionate cautionary tale. His previous films attempt to penetrate the darkness of Man while avoiding any preachiness. I'm guessing this trend will continue here.
---
MACBETH // Director: Justin Kurzel (THE SNOWTOWN MURDERS) // Starring: Michael FASSBENDER, Marion COTILLARD
An adaptation of Shakespeare's legendary play, keeping the original language in tact. Macbeth is driven to murder after hearing a prophecy. His devious wife influences him, guiding Macbeth towards tragedy.
I love watching grand scale remakes of Shakespeare. It looks like this film will fill its frames with thick atmosphere. You can tell from the images that this isn't a MacBeth we've seen before. The creative team here will next adapt ASSASSIN'S CREED.  
---
ME, EARL, AND THE DYING GIRL // Director: Alfonso Gomez-Rejon // Starring:  Olivia Cooke , Thomas Mann, RJ Cyler, Jon Bernthal, Nick Offerman, Connie Britton, Molly Shannon
Based on a novel. Earl is a movie nerd obsessed with Werner Herzog. He directs his own short films with his buddy, influenced by the likes of Fellini, Kubrick, and Bergman.
This little film is supposed to be a quirky character piece. I was this same type of nerd as a teen, so I can't wait to relive the glory days of youth. We also get another big screen appearance from young en jenue Olivia Cooke who has been impressive despite working in poorly written genre roles. Plus, EARL is a movie about the love of movies. What's not to love?
---
OUR KIND OF TRAITOR // Writer: Hossein AMINI (DRIVE) // Starring: Ewan McGREGOR, Naomie HARRIS, Damian Lewis, Stellan Skarsgard
Based on a John le CARRE novel. A British couple are lured into a Russian oligarch's plan to defect to the West. Set in contemporary Russia.
My main draw here is the writing. Le Carre has given literature some of its best spy novels. And I loved the movie DRIVE from the screenwriter here. I'm looking forward to a dense mystery full of twists. I'm also anticipating somber and subdued performances that will draw us in.
---
QUEEN OF THE DESERT // Director: Werner HERZOG // Starring: Nicole KIDMAN, James FRANCO, Robert PATTINSON
Biopic about a British explorer / archaeologist / writer / political attache / adventurer who played a major role in establishing the modern state of Iraq.
I'm intrigued by how surreal pseudo-documentarian Herzog will tackle a full on dramatic feature film. Kidman has a chance to remind us how good an actor she is, after appearing in several disappointments like last year's PRINCESS GRACE. Let's hope she has more luck playing a "QUEEN". The title is not to be confused with the hilarious Australian drag-queen road-trip comedy PRISCILLA: QUEEN OF THE DESERT.
---
RICK & THE FLASH // Director: Jonathan DEMME (SILENCE OF THE LAMBS); Writer: Diablo CODY (JUNO) // Starring: Meryl STREEP, Kevin KLINE, Sebastian Stan, Mamie Gummer
An aging rock star returns home to reconnect with her grown children she left decades earlier in pursuit of fame and fortune.
The concept doesn't sound groundbreaking, but the talent involved means this should be a focused character study full of emotional performances. Streep is Streep – she demands our attention with every role. Kline is one of the silent heavy-weights. I've loved several of his performances, from the way he approaches Shakespeare with a quite resonance, to his subdued emotions in LIFE AS A HOUSE, to his dark comedy in Ang Lee's THE ICE STORM. Kline is one of the greats that you never hear championed. But I look forward to each of his movies. Demme is one of the great directors. And Cody promises witty, acidic, and precocious dialogue. I usually enjoy films centered on music, so with the talent on board I'm really looking forward to this one.
---
ROOM // Director: Lenny Abrahamson (FRANK) // Brie LARSON, William H. MACY, Joan ALLEN
A boy is raised within the confines of a small shed. This bleak film already has Award buzz for Brie Larson.
FRANK was an oddball comedy with a lot of satire and social commentary. I wonder how much commentary ROOM will have. The subject matter seems ripe for exploration. My mind is already spinning with questions. Why is the boy raised in a shed? What is the mother like? What will the boy grow up to be? How will this comment on America's methods of child-rearing? Is there a fine line between what is too much punishment and not enough? How can we teach our children to be good?
---
SLOW WEST // Director: John MacLean // Starring: Michael FASSBENDER, Kodi Smit-McPhee
Western. A boy travels across the frontier with a mysterious traveler who is in search of the woman he loves.
A simple concept sometime invites the most in-depth analysis. I wonder if this film will be rich in metaphors. A barren landscape might reflect mortality. The brutal frontier means there could be some survival elements. Once again, Fassbender leads the way in a character study, ensuring another compelling selection on this list.
---
SPOTLIGHT // Director: Thomas McCarthy (STATION AGENT, THE VISITOR) // Starring: Michael KEATON, Rachel McADAMS, Mark RUFFALO, Stanley Tucci, Billy Crudup
The True Story of a Boston Globe journalist who reveals a Catholic Priest cover-up of child molestations.
This is heavy territory. It screams Oscar attention. Keaton and Ruffalo are coming off of fresh nominations. And McAdams will have quite the year in 2015 – with a few Award contending films. The director's previous efforts had a smaller focus. I wonder if his intimate portrayal of characters will drive this film as well? It will be a fine balancing act. This dark controversial territory is worth exploring even if it might prove difficult to watch.
---
THE TALE OF TALES // Director: Matteo Garrone (GOMORRAH) // Starring: Salma HAYEK, Vincent Cassel, Toby Jones, John C. Reilly
A blend of fantasy and horror imbues this film inspired by a 17th Century fairy tale. It's been refered to as an extremely ambitious English debut from the director.
This strange brew could be pretty tasty. I really enjoy hyper visual films like Tarsem Singh's (THE CELL). I'm thinking this experimental piece of cinema will fit right in with Singh. There isn't any details about the story, so I'm intrigued by the surreal elements alone.
---
TRESPASS AGAINST US // Director: Adam Smith (DR. WHO, music videos) // Starring: Michael FASSBENDER, Brendan Gleeson, Rory Kinnear, Sean Harris
Three generations of a rowdy Irish family come into conflict when the law catches up to them.
A visual director, a compelling lead actor, and music by CHEMICAL BROTHERS make for an anticipatory crime film. A familiar genre gets some fresh flavour with the Irish setting. Fassbender has several attention-grabbing movies on the horizon. Someone like Tom Hardy might get more press, but Fassbender is on quite the roll. I think his renaissance period began with the quirky indie FRANK. A bold choice for a charismatic Hollywood leading man.
---
UNTITLED CHEF PROJECT // Director: John Wells (AUGUST); Writer: Steven Knight (EASTERN PROMISES, LOCKE, PEAKY BLINDERS) // Starring: Bradley COOPER, Sienna MILLER, Omar Sy, Alicia Vikander, Daniel Bruhl, Emma Thompson, Jamie Dornan, Uma Thurman
It's been said that this script is one of best never filmed. Cooper has tried to make this passion project for years. The story follows a disgraced bad-boy chef trying to stage a comeback. He puts together a kitchen dream-team to succeed.
I'm looking forward to see further development from rising stars Vikander, Dornan, Sy, and Bruhl. The impressive cast, and top notch behind-the-scenes talent, this little movie could become very big. With the writer's previous works, I wonder how dark this Chef project will get?
---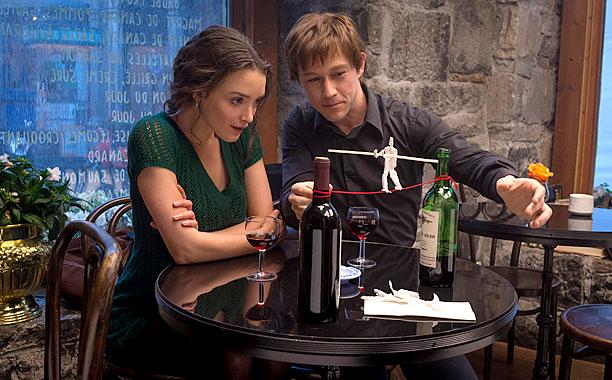 THE WALK // Director: Robert ZEMECKIS // Starring: Joseph Gordon LEVITT
A true story, previously told in the superb documentary MAN ON WIRE. This is the story of the crazed Frenchman who tight-roped between the Twin Towers in the 70s.
Filmed in 3D, this film will be quite the spectacle. Zemeckis is always a bold magician behind the camera. He seems to break the rules in a creative way with each picture. I'm sure he'll bring us to dizzying heights with great effect. Levitt has a real chance to deliver an Award nominated performance here and loose himself in the character. He always seems to transform with each role. JGL has dabbled in so many different genres throughout his long career.
---
What do you think? Leave a comment below. 
Are there any other movies I need to find out about?
What movies are you looking forward to?